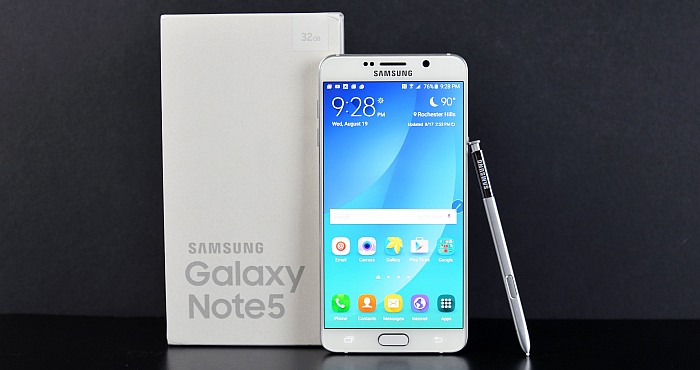 Samsung for a long has been the leading smartphone, manufacturer. In its production line, Samsung concentrates on three features namely; excellent performance, huge screen and an artistic style. Samsung note 5 negates the three factors, and they are no longer meaningful in its production. The reason was that every phone is big now, faster and powerful. Apple e is now giving Samsung a stiff competition and fighting on the line of the three features will be an uphill struggle. Therefore, things have to change in the way Samsung play its game or else its wound up from the market. Samsung responded to change, and its new note is different.
The note is pretty and has an artistic design making it feel like it's a member of the Galaxy phones. Samsung believes in one principle that it strategize on; if you cannot beat them with power, and size then beat them on design.it has a pretty combination of glass and metal. The screen is huge, but the bezels on both sides are reduced if you compare them with the last note.  This design makes it ideal to hold in one hand. The back cover is a glass curving in to meet the metallic rim on the right and left. This gives it a better grip.
Note 5 come in a square shape with a fingerprint-sensing home button. It's thin and impeccably light. This note differs from other notes in that you can replace the battery when it runs down and also expand the memory. These features have not been prioritized by mobile companies for a long time. But Samsung exploits these avenues to present the difference. Note 5 has a gorgeous screen with a super AMOLED set up. It also strikes a color balance and brightness settings for most users.  It has a 4GB RAM a power function that everybody will look for. Unfortunately, the battery size of the device is smaller than that of its predecessors. Its battery can only manage to go for just a day.
It flaunts a 16-megapixel camera that elicits zero complaints from any user. The camera is fast, full-featured and snaps smart photos. Its sensor is exactly the same as the one on the galaxy.  It has the best display and colors in daylight or dark lighting a vivid and sharp.  Samsung software gives you a lighter touch. The development of Note 5 is a success story of what Samsung can achieve if holds itself back rather than fighting endless features. Samsung concentrates on what is already created and create more value from .note 5 is the most user-friendly note ever and gives users a premium feeling.